St. Mary's Healthcare in Amsterdam, NY, offers breakthrough treatment for patients with chronic lower back pain
 Dr. Joseph Popper, an orthopedic spine surgeon operating at St. Mary's Healthcare, is one of the few doctors in the region to offer the Intracept procedure, an innovative, minimally invasive approach providing relief for patients suffering from chronic low back pain. On Wednesday, August 3, 2022, the first two patients will be treated at St. Mary's Healthcare with the clinically proven Intracept procedure.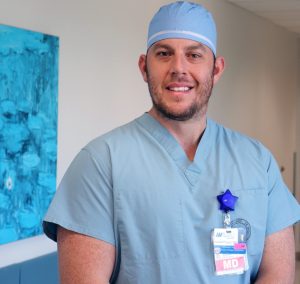 During this procedure, Dr. Popper uses a radiofrequency probe to ablate the nerves within the vertebrae of the lower back. The procedure disables the connection so pain signals from that area can no longer be transmitted to the brain. Most patients go home the same day, and most patients experience minimal post-procedure pain and generally quick recovery times. People often start to feel pain relief within two weeks after the intracept procedure. Significant improvement in pain and function provides clear proof of the effectiveness of this treatment.
"I'm very excited to offer the new Intracept procedure to patients at St. Mary's Healthcare. This is a unique and advanced treatment which is the first of its kind to effectively treat a large group of patients with chronic back pain," Dr. Popper said. "The 5 and 6 year evidence and scientific research that has gone into this procedure has proven it to be an effective and durable solution. Meaning, the effects of this procedure provide long-lasting pain relief for patients that previously had no other real options for effective minimally invasive treatment. "
Dr. Popper's experience with minimally invasive procedures, including the Intracept, expands the opportunity for patients suffering from a wide range of spine-related issues to receive expert care close to home. In the past, the only options for treating this type of back pain were to perform a spinal fusion or to focus on pain management. The Intracept procedure provides a far less invasive procedure that keeps the structure of the spine intact.