Dr. Choudhry Mumtaz Joins Primary Care Team at St. Mary's Healthcare
AMSTERDAM, N.Y., Oct. 5, 2023— Dr. Choudhry Mumtaz has joined the primary care team at St. Mary's Healthcare. He sees patients of all ages at the hospital's Amsterdam Family Health Center in the Rao Outpatient Pavilion.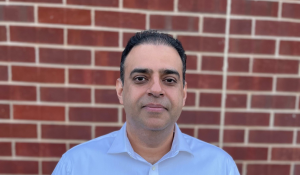 Dr. Mumtaz comes to St. Mary's from St. Peter's Health Partners, a member of Trinity Health. Previously, he was a family medicine physician and medical director at Crossroads Family Medicine of Mt. Vernon in Illinois. He is fluent in English, Spanish, Urdu, Hindi and Punjabi.
"Dr. Mumtaz is an excellent fit for St. Mary's," said Jeff Methven, St. Mary's President and CEO. "He shares our mission and values, our dedication to caring for those who are underserved, and our commitment to meeting our community's healthcare needs right here, close to home."
Board certified in family medicine, Dr. Mumtaz earned a medical degree from Universidad Tecnolόgica de Santiago in the Dominican Republic. He completed a residency in family medicine at the Brooklyn Hospital Center in Brooklyn, New York.
Dr. Mumtaz is accepting new patients. For an appointment, call 518-841-3770.