The St. Mary's Healthcare Capital Campaign Enters Public Phase
Amsterdam, NY (October 14, 2021) – St. Mary's Healthcare is pleased to announce the public phase of its first Capital Campaign in over 6 years. This project, "Preserving our Promise…The Campaign for St. Mary's Healthcare," expands on the St. Mary's Rao Outpatient Pavilion, which opened its doors in 2015, to an integration of primary care, behavioral health services, and a retail pharmacy, which is being deemed as a "Medical Village." This location also provides access to much needed outpatient services all under one roof.  In addition, this campaign also includes the expansion and renovation of the inpatient chemical dependency unit, which will be located on the St. Mary's Healthcare Memorial Campus.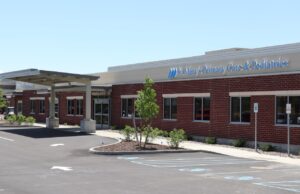 "This is an extremely exciting time for St. Mary's Healthcare as we embark on the public phase of this campaign, and now we could use the community's support more than ever. It is evident that this project has already been met with positivity and generosity during a challenging time in health care. St. Mary's has many great ways for you to get involved and support this campaign. With your help through online donations, and assistance in supporting the goals of this campaign, we will be able to continue to serve our community for years to come," stated Bri Giulianelli, Executive Director of the St. Mary's Foundation.
The "Medical Village", which opened to the public on June 14, 2021, serves as "one-stop shopping" for St. Mary's patients. St. Mary's has combined three of their primary care practices located in Amsterdam under one roof, along with behavioral health specialists, diabetes education, pastoral care services, and a retail pharmacy (set to open later this year).  When a patient visits their primary care provider, they will be able to easily pick up their prescriptions following their visit. If they need to visit the Rao Outpatient Pavilion next door for lab work, medical imaging, urgent care, breast health or cancer medicine, they can use the connecting corridor to access those services.  A healing garden has been planted, as well, for patients and associates to find a peaceful place to meditate and reflect.
"Throughout the pandemic we have been witness to many donations and messages of support from in and around our area. I am humbled at the level of generosity from our established donors, associates, and community members. For over 100 years St. Mary's has led the way in excellent health care for the Fulmont region and our goal to continue that legacy remains unchanged," stated Scott Bruce, President and CEO of St. Mary's Healthcare.
St. Mary's has been fortunate enough to garner support from wonderful community leaders and businesses. These amazing early community supporters include, but are not limited to Alpin Haus, Hill and Markes, Stewart's Shops, BBL Construction, Beckmann Converting, Rose and Kiernan, and St. Mary's Healthcare Auxiliary have all pledged their support to this campaign. We are thankful for their belief in the mission of St. Mary's, which is to serve our most poor and vulnerable neighbors. We hope that we can count on our community, as well.
If you would like to donate to this campaign, please contact Bri Giulianelli at bgiul001@nysmha.org or 518-770-7584. You can also donate directly on the St. Mary's website at: www.smha.org/foundation
Photo Description: New Rao Outpatient Expansion
Contact
Bri Giulianelli
Executive Director of the Foundation at St. Mary's Healthcare
(518) 770-7584
bgiul001@nysmha.org