Tesiero Cancer Center Receives Donation From Gloversville Fire Department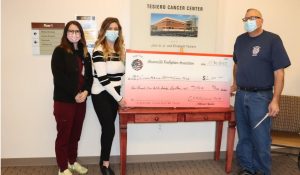 Amsterdam's St. Mary's Healthcare Tesiero Cancer Center located in Amsterdam NY announces a generous donation that was recently received from the Gloversville Fire Department (GFD).
The (GFD) has chosen our center for this year's donation as well as the previous year for 2021. They were able to collect $2,160.00 to donate! Mr. Nealon shared four members in the department have been affected by cancer, so the decision came easy when choosing the recipient to donate to for 2021 and 2022. We have seen an unfortunate increase in the number of patients that are struggling and could use our help. The generous donation is going to the Patient Care Fund, which will help to provide support to our cancer patients in various ways such as transportation, copays, medical bills, groceries or any needs that may arise.
Mr Nealon, from (GFD) presented the check to The Tesiero Cancer Center care team on Thursday, December 1st, 2022. A huge THANK YOU to (GFD) for this tremendous gift and supporting St. Mary's and our patients!