St. Mary's Healthcare Welcomes New Chief Medical Officer
Bringing extensive clinical and leadership experience, St. Mary's Healthcare is pleased to announce Craig van Roekens, MD, MBA, MPH, FACEP, FMD, SMH, EM and HM, as the new Chief Medical Officer (CMO) for St. Mary's Healthcare.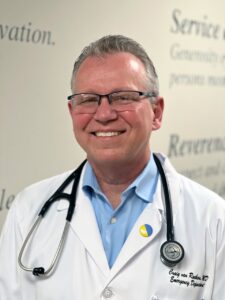 Dr. Craig van Roekens graduated with distinction from The Johns Hopkins Hospital Emergency Medicine Residency program in 1993. In addition to being board certified fellow in Emergency Medicine, Dr. van Roekens received his Masters in Business Administration and Masters in Public Health in 2000 from UC Berkeley while working full time at Kaiser Permanente in Santa Clara, California.   
"We are very excited to have Dr. Craig van Roekens join our team as the Chief Medical Officer for St. Mary's Healthcare," said Scott Bruce, President and CEO of St. Mary's Healthcare. "Our strong collaborations and partnerships with the medical staff are critical, and his operational leadership will be essential to our ongoing efforts in providing the very best possible care for those we are privileged to serve." 
Since 1999, he has been a New Yorker, and has served in a variety of roles overseeing emergency departments and hospitalist medicine programs with Envision, MedExcel, Sound Physicians and with Team Health for the last several years.   He has had multiple ED Directorships in NY previously including Vassar Brothers Medical Center as well as Good Samaritan Medical Center in Suffern and was a CMO with Manhattan's Physician Group.     
When responding to what he will bring to the St. Mary's community, Dr. van Roekens stated, " I am excited about the opportunity to join the administrative team at St. Mary's Healthcare.  We have an exceptionally loyal and talented medical staff, I consider it an honor to serve them, as well as our entire SMH team, and most importantly, to serve our patient community as we emerge from a difficult time with Covid, staffing and supply chain shortages, and unprecedented uncertainty.  I want to bring a collaborative, communicative style to the challenges ahead, and am looking forward to working with and working for all of you." 
He joined Saint Mary's Healthcare System in September as the Team Health ED Director and earlier this year took on the role of the Hospitalist Director. Prior to coming aboard with us, Dr. van Roekens held the position of the Team Health Medical Director of Glens Falls Hospital ED.   
He is happily married to Patty, a nurse with her Masters in Nursing Education and they are blessed with triplets aged 21, Evan, Victoria and Ryan. 
Dr. van Roekens' appointment follows the retirement announcement of Dr. William Mayer, St. Mary's CMO since 2014, and longtime member of the St. Mary's medical staff.  Dr. Mayer leaves a legacy of leadership through his team-oriented approach focused on improving the quality and safety of the care delivered here at St. Mary's.  St. Mary's Healthcare thanks Dr. Mayer for his many years of service to our community and congratulates and welcomes Dr. van Roekens to his new role.