St. Mary's Healthcare Welcomes New Chief Information Officer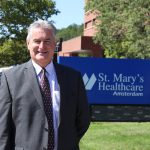 St. Mary's Healthcare is pleased to announce that Peter Gilhooly has joined the St. Mary's team as Executive Director of Information Services (IS) and Chief Information Officer. Peter has more than 20 years of senior level leadership including Chief Information Officer experience through multiple technical, business, and health care positions, which have allowed him to become a seasoned, tech savvy IS leader with a focus in the medical field.
"St. Mary's Healthcare continues to make advancements which include the expansion of locations and services throughout our care communities. As these initiatives are being developed and implemented, technology solutions are an integral piece to the success of each project," stated Scott Bruce, President and CEO of St. Mary's Healthcare. "We're excited to have Peter join St. Mary's Healthcare, with his vast knowledge and experience, his leadership will better position St. Mary's for the future."
Previously, Peter served in executive level healthcare technology positions at MVP Healthcare, Albany Medical Center, Champlain Valley Medical Center, and most recently Glens Falls Hospital. A graduate of Fordham University in NYC, Peter built on his education with experience and excels in building high-performance teams, strategic planning, project management, and implementing best practice methodologies and improvement programs.
"The St. Mary's organization and specifically this position, allows the opportunity to make change and be a part of a collaborative team that cares, both from a leadership perspective as well as a staff perspective. I've always heard great things about St. Mary's Healthcare including the associates who work here, and my experience meeting everyone already has only reinforced that," stated Peter Gilhooly. "Everyone has been tremendously welcoming, professional, and outgoing in terms of assisting me in getting up to speed with St. Mary's priorities, history, and challenges. I look forward to continuing to align technology with the strategic business needs of the organization."