St. Mary's Healthcare Recognizes Nurse – Amanda Roblee – as Latest DAISY Award Winner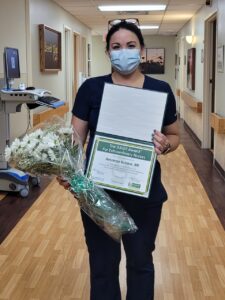 Amanda Roblee, RN of the St. Mary's Birthing Center was recently honored with The DAISY Award® For Extraordinary Nurses. The award is part of the DAISY Foundation's programs to recognize the super-human efforts nurses perform every day.  
The nomination submitted read, "[Recently,] we went to St. Mary's preparing to welcome our newborn. We did not know what to expect, as I am sure most first-time parents feel the same way. As soon as we got there and we were admitted we knew we were in good hands, the entire staff was very helpful and able to put our minds at ease [for what would be a challenging delivery]."   
"It is a powerful reminder when patients notice associates like Amanda going over and beyond as care givers apart from our everyday nursing. It is because of her dedication and compassionate efforts, and nurses like her, that St. Mary's patients experience a level of care that exemplifies the impact nurses have in creating an environment where patients and families feel at home," stated Patricia Sanders, St. Mary's Healthcare Chief Nursing Officer. "We are proud that we can recognize our St. Mary's nurses through the DAISY Award program."   
The nomination concluded with, "Amanda was by our side coaching us through. Her words and encouragement helped get us through one of the scariest moments in our life, and we were able to meet our beautiful [newborn]. After the doctors checked our baby out and made sure everything was ok, Amanda made sure to talk to us about what happened and explain it in a way so we could better understand what had just happened. We are forever grateful for the wonderful nurses that did everything they could for us, and the entire maternity floor. Everyone there went above and beyond."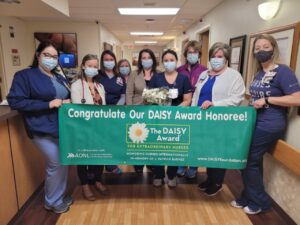 How to nominate a Nurse: Have you recently had an extraordinary experience with a nurse at St. Mary's Healthcare? Please submit a DAISY Award nomination at the following link: www.smha.org/daisy   
About the DAISY Foundation:  
The DAISY Foundation is a not-for-profit organization, established in memory of J. Patrick Barnes, by members of his family.  Patrick died at the age of 33 in late 1999 from complications of Idiopathic Thrombocytopenic Purpura (ITP), a little known but not uncommon auto-immune disease. (DAISY is an acronym for Diseases Attacking the Immune System.)  The care Patrick and his family received from nurses while he was ill inspired this unique means of thanking nurses for making a profound difference in the lives of their patients and patient families.