St. Mary's Healthcare Radiology Department – New State-Of-The-Art CT Scanner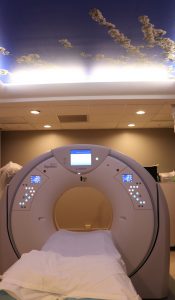 St. Mary's Healthcare Radiology Department is pleased to announce their newly upgraded CT Scanner. With the constant changes we see with technology the same goes for the advancement in medical technology. The new CT scanner is a Canon Aquilion Prime SP which is a CT system of choice for all imaging needs and will provide complete clinical capability. This upgraded machine allows for fast patient throughput to robust cardiac scanning and new diagnostic capabilities. This improvement leads to advancement not only with scanning capabilities but also patient experience. Capable of handling all patients from pediatric to bariatric, even the most challenging cases, while providing all staff with a fast and efficient solution regarding image quality. This CT scanner provides intelligent technology focused on patient safety.  It also offers a wide open and low to the ground stance, to put patients at ease and allow improved access to the patient from the front and rear of the gantry to better position patients safely and comfortably by the push of a button.    
Michael Young RT (R. CT), St. Mary's CT Supervisor also mentioned "We have a CT Fluoroscopy that enables real time images of the body as we are doing a biopsy. Years ago, standard practice would be to take an image, walk outside the room, look at it, come back, take another image and walk outside the room. Now we can stay in the room, and it cuts down the time drastically. For example, most biopsy's now take half the amount of time as they did before."    
Michael also noted another advancement with this new technology is the need for less radiation exposure to the patient. This system at St. Mary's Healthcare uses less x-rays than the system it replaced. The new CT also has a component that incorporates artificial intelligence (AI) to make the most diagnostic images that the radiologist reviews in their reading.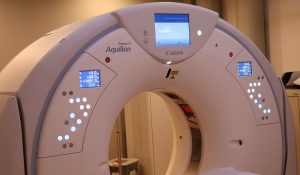 St. Mary's is excited to be able to provide the utmost care to our patients with this newly enhanced CT Scanner offering a multitude of advancements for both patient experience and diagnostic capability. The newly designed ceiling featuring an image of blue sky and clouds in the diagnostic area also provides a sense of calmness for a more positive patient experience.