St. Mary's Healthcare President and CEO Announces Retirement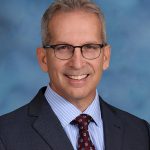 Amsterdam, NY – St. Mary's Healthcare President and CEO, Scott Bruce, has announced his retirement effective later this year. Scott has a long and successful association with St. Mary's Healthcare having worked at the organization for over 25 years where he has served in a variety of roles, his most recent being CEO. He is a servant leader and has dedicated himself to strengthening the Mission of St. Mary's Healthcare and to improving access to health care services for our community.
Serving as the CEO throughout much of the COVID-19 pandemic, Scott has made significant contributions in guiding St. Mary's Healthcare during one of the most challenging times in healthcare.
Scott has also managed a number of important service expansion and construction projects including the award-winning Rao Pavilion which recently saw the expansion of Primary Care and a retail pharmacy, the establishment of several new Urgent Care, Specialty and other Primary Care Centers and the expansion of diagnostic and treatment services in Medical Imaging, Laboratory and the Surgical Suite. His role in the transitioning of Amsterdam Memorial Health Care into St. Mary's Healthcare was integral to the success of that unification in 2009. Most recently during Scott's leadership, St. Mary's also expanded Behavioral Health services with a new addiction's unit and walk-in access for any behavioral health need.
The next steps for St. Mary's Healthcare and its Board of Directors will be to begin a national search for the next President and CEO. During this time, Scott will continue to work closely with his senior leadership team, Board of Directors and fellow St. Mary's associates to address important priorities to ensure a successful future and transition for his successor.
The entire St. Mary's Board of Director's is extremely supportive of Scott's decision and grateful for his many years of friendship, and leadership.