St. Mary's Healthcare Newest DAISY Awardee – Lauren Blanchard-Forker, RN – Intensive Care Unit
Amsterdam, NY (February 10, 2023) – Amsterdam's St. Mary's Healthcare Intensive Care Unit congratulates Lauren Blanchard-Forker, RN as the Newest DAISY Awardee! 
Lauren's nomination was submitted by a mother whose son experienced emergency surgery, but because of Lauren's compassion and dedication to the Mission of St. Mary's, she provided an incredible experience because of her calming nature. 
Part of Lauren's nomination read, "During my son's stay, the care was excellent. Lauren was one of the most caring nurses I have ever met. She went above and beyond to make my son comfortable and advocated for him. She searched the hospital for things he wanted, like toast. She brought him candy for when he was better. She was just excellent with him! She went the extra mile to help us get through all of this and make it easier. I really cannot say enough about her and the care she gave."
The DAISY Award is an initiative of the DAISY Foundation that honors the amazing work nurses do for patients & families every day wherever they practice, in whatever role they serve, and throughout their careers.
Do you want to serve others? Look no further than at St. Mary's Healthcare for a Life Changing Career. Visit St. Mary's Hospital Jobs, Healthcare Careers, Amsterdam, NY (smha.org)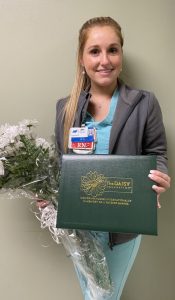 Pictured: St. Mary's Healthcare Lauren Blanchard-Forker, RN Intensive Care Unit Newest DAISY Awardee