St. Mary's Healthcare Honors Three With DAISY Awards Recognizing Nursing Excellence
St. Mary's Healthcare continues its recognition of nursing excellence by recently honoring three amazing nurses with three different DAISY Awards. Each one recognizes a unique level of nursing distinction. Nominated, by their patients, peers, and the community, DAISY Awards were presented for Extraordinary Nursing, Lifetime Achievement and Nurse Leadership. These special awards recognize the extraordinary compassionate care that St. Mary's Healthcare Nurses provide our patients and families every day. St Mary's Healthcare is pleased to announce the winners of the following three DAISY Awards:
Award: DAISY Award for Extraordinary Nurses
Awardee: Amber Chamberlain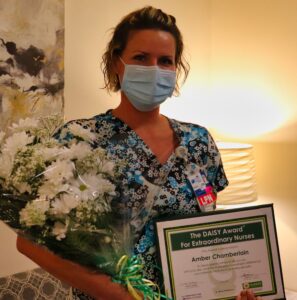 Amber Chamberlain, LPN, from the St. Mary's OB/GYN Health Center was recently honored with The DAISY Award For Extraordinary Nurses. This award honors the super-human work nurses do for patients and families every day wherever they practice, in whatever role they serve, and throughout their careers. They are recognized as outstanding role models in our nursing community.
During the nomination process, here is what one of Amber's colleagues wrote about her:
"Amber is an extremely compassionate and caring nurse. She has only been a part of our practice for a little while now, but her care for our patients has radiated every single day. We had a new patient come in and Amber roomed her. Amber had been in the room for quite a while, she was taking her time getting to know the patient and listening to everything the patient wanted to share with her. She had other tasks to do, but this patient needed someone to talk to and to listen. Amber took the time to do that. She has had that same attitude with every single patient she sees in the office or talks to on the phone. She is an excellent light to our patients and always goes the extra step to carry out the St. Mary's Mission and make sure our patients are well taken care of."
Award: DAISY Lifetime Achievement Award
Awardee: Moira Furman
Moira Furman, RN, nursing supervisor at St. Mary's Hospital was the recipient of the DAISY Lifetime Achievement Award. This award was created to recognize those nurses who have devoted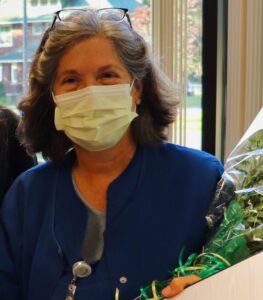 their life's work to the compassionate care of others. Awardees are nominated for their dedication to nursing through active mentoring, role modeling, advocating for their patients and promoting the positive image of nursing. They serve as a beacon of inspiration to those at all stages of their career and in the various and important roles of nursing.
Among the many nominations submitted for Moira, one of them read:
"When we think of a nurse who is exceptional, Moira Furman is, without a doubt, at the top of the list. Throughout her years of service as a nursing supervisor she has been a rock of support to the staff of St Mary's Hospital. So many times, the sentence "I'm so glad Moira was there" has been said by the hospital staff because Moira has a way of knowing exactly where she's needed most and she jumps in without hesitation to help in any situation, and yet she does so, with humility and grace."
Award: DAISY Nurse Leader
Awardee: Ashley Duross
Ashley Duross, Nurse Manager at The St Mary's Tesiero Cancer Center was awarded the DAISY Nurse Leader Award! The DAISY Nurse Leader Award honors the extraordinary work that Nursing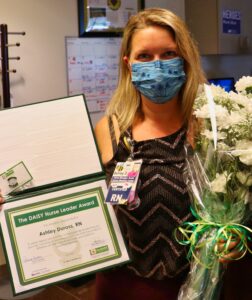 Leaders provide to support staff, in the provision of compassionate and skillful care for patients and their families. Nominated by her peers, Ashley was recognized for her selfless work ethic, dedication, and team leadership skills.
One of the nominations for Ashley said the following:
"I have had the pleasure of working with Ashley in her role for a number of years and witnessed many acts of kindness, strength and fortitude. She puts her staff before herself, working the floor when needed and never forgetting a birthday or special occasion. I've seen her simply hold a patient's hand who's receiving chemo for the first time and is terrified or comforting a parent whose husband's time is nearing the end. Ashley will contact Insurance companies to fight for drug coverage and keep fighting when they say No, often finding alternatives. Ashley is one of those people who truly makes a difference in someone's life and it's an honor to work with her."
About St. Mary's Healthcare:
St. Mary's Healthcare features an award-winning acute care hospital, primary and specialty care centers throughout Fulton, Montgomery, and Saratoga counties, more than 30 behavioral health services for persons in Fulton, Montgomery and Hamilton counties, a full continuum of physical rehabilitation services and a 160-bed nursing home. The organization has earned exceptional national rankings for excellence in medicine and has a continuing commitment to provide an exceptional patient experience. For more information about St. Mary's Healthcare, call (518) 842-1900 or visit us online at www.smha.org. To stay connected to St. Mary's, follow us on Facebook, www.facebook.com/smha.org.
About the DAISY Foundation:
The DAISY Foundation is a not-for-profit organization, established in memory of J. Patrick Barnes, by members of his family. Patrick died at the age of 33 in late 1999 from complications of Idiopathic Thrombocytopenic Purpura (ITP), a little known but not uncommon auto-immune disease. (DAISY is an acronym for Diseases Attacking the Immune System.) The care Patrick and his family received from nurses while he was ill inspired this unique means of thanking nurses for making a profound difference in the lives of their patients and patient families.