St. Mary's Healthcare Announces New Chief Financial Officer – Keith Waters
St. Mary's Healthcare Announces New Chief Financial Officer – Keith Waters
Amsterdam, NY (October 4, 2021) – Keith Waters, CPA, has been appointed as the Chief Financial Officer (CFO) – Vice President of Finance for St. Mary's Healthcare. Keith has been a Certified Public Accountant for 15 years and has served in a financial role for nearly 20 years, with expertise in developing and implementing financial policies and procedures. Having joined St. Mary's in 2009 as the Director of Accounting and Reimbursement, and later promoted to the Senior Director of Finance where he has led that department for the last 6 years.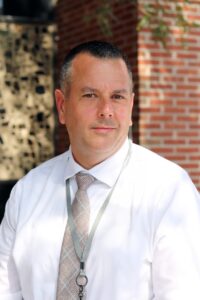 "We interviewed some very strong external candidates, but none were stronger than our very own Keith Waters. He has done a terrific job over-seeing the financial operations of the organization and I know he has the support of our leaders and associates that have worked with him. I'm confident he will do a great job for us in this critical role," stated Scott Bruce, President and CEO of St. Mary's Healthcare.
Keith's long standing leadership roles at St. Mary's Healthcare provides him with a well versed and prepared set of skills for the unique financial challenges health care continues to face. He is a graduate of the University of Albany (SUNY) where he earned a Bachelor of Science in Accounting with a minor in Economics.
"I'm honored and humbled to serve in the role of CFO at St. Mary's Healthcare, an organization with a rich history of providing compassionate and exceptional health care to the local community for over a century. It also serves as the community that I call home and the healthcare setting where my children were born," Waters stated.
Keith enjoys coaching his boys youth sports teams (baseball and football) and service as a board member of the Fonda Fultonville Little League. He lives in Amsterdam with his wife and three boys.
"I look forward to working with a talented group of leaders as we navigate the ever changing and complex world of healthcare to advance our strategic initiatives during this pivotal time in healthcare," added Keith.
Keith will succeed Rick Henze, who is retiring after nearly 10 years with St. Mary's Healthcare including 6 years as CFO.
"We are grateful to Rick for his strong leadership and commitment to the Mission of St. Mary's over years," Bruce said. "He has played a key role in our Ministry's growth, our transition from Ascension Health, and with our conversion to a new electronic medical records platform."
About St. Mary's Healthcare:
St. Mary's Healthcare features an award-winning acute care hospital, primary and specialty care centers throughout Fulton, Montgomery, and Saratoga counties, more than 30 behavioral health services for persons in Fulton, Montgomery and Hamilton counties, a full continuum of physical rehabilitation services and a 160-bed nursing home. The organization has earned exceptional national rankings for excellence in medicine and has a continuing commitment to provide an exceptional patient experience. For more information about St. Mary's Healthcare, call (518) 842-1900 or visit us online at www.smha.org. To stay connected to St. Mary's, follow us on Facebook, www.facebook.com/smha.org.