St. Mary's Celebrates National Quilting Day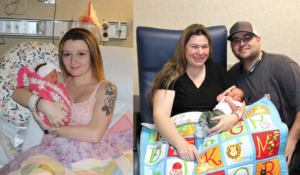 National Quilting Day was recently celebrated at The St. Mary's Healthcare Birthing Center with a presentation of a hand-crafted quilt. This year our Birthing Center was lucky enough to have two beautiful Quilts presented to two growing families. 
National Quilting Day occurs on the third Saturday in March. Traditionally, a quilt is given to the first baby or babies in this case born on or near that day and this year it was baby Sophia and baby Matthew. 
The quilts were once again provided by the Sew Busy Quilt Guild, located in Gloversville, New York. In previous years, visitor restrictions prevented an on-site presentation, but we are extremely pleased to once again resume these in person presentations by the Sew Busy Quilt Guild to Sophia and family, and Matthew and family.   
The quilt design was composed of a colorful mix of bright and soothing colors, each with their own theme. The quilts also carry an inscription sewn into each that reads, "May the work of our hands be a gentle expression of the love that is in our hearts!" 
The St. Mary's Birthing Center staff look forward every year to the presentation and the chance to admire the amazing handiwork of the Sew Busy Quilt Guild.