SMHA Pharmacists Complete Board Certifications
Recently, two of our pharmacists completed their board certifications, each in their own specialty. Congratulations to Erin Graves, PharmD, BCSCP in her completion of being Board Certified as a Sterile Compounding Pharmacist and Gabriele Sasso, Pharm.D, BCPS in his Board Certification as a Pharmacotherapy Specialist.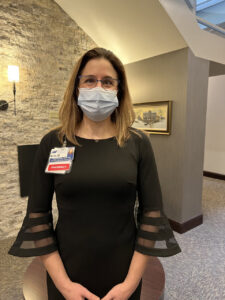 Erin's Board Certification in the Sterile Compounding Pharmacist (BCSCP) Program credentials her as a pharmacist who has met the eligibility criteria and who in her unique practice is responsible for ensuring that sterile preparations meet the clinical needs of our patients. Erin's advanced education and experience better ensures the quality, safety, and environmental control requirements in all pharmacy phases of preparation, storage, transportation, and administration in compliance with established standards, regulations, and professional best practices.
Being Board Certified as a Pharmacotherapy Specialist, acknowledges Gabe's commitment and his advanced expertise to optimize medication use, improve patient outcomes, and serve as an objective, evidence-based source for therapeutic information and recommendations for the St. Mary's Ministry. Gabe's certification in coordination with our providers positively benefits the organization to design and/or modify patient's medication therapy regimens, recommending adjustments to dosage or alternate medications when appropriate.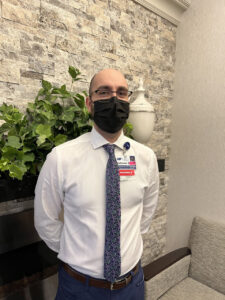 Kathleen Chestnut, St. Mary's Healthcare Director of Pharmacy stated, "Erin and Gabe are both exceptional and dedicated pharmacists. By them becoming board certified, it further demonstrates their commitment to excellence here at St. Mary's. Their expertise and experience will help ensure we continue to provide the best quality of care for our patients."
Board certification through the Board of Pharmacy Specialties® is the gold standard for determining which pharmacists are qualified to contribute at advanced practice levels. Through the rigorous examination standards mandated by the Board of Pharmacy Specialties®, the BPS board certified pharmacists are uniquely trained and educated to meet the continually expanding expectations of other healthcare team members and the specialized needs of the patients they serve.