Maureen Rhodes Named Executive Director of the Foundation for St. Mary's Healthcare
AMSTERDAM, N.Y., April 21, 2023—Maureen Rhodes has been promoted to executive director of the Foundation for St. Mary's Healthcare, responsible for fundraising to support St. Mary's programs and services and enhance community health. 
Rhodes has 19 years of administrative experience at St. Mary's in positions of increasing responsibility. Most recently, she served as director of physician business development, including recruitment and retention.  
"Maureen has the skills and experience to grow the Foundation and help ensure that St. Mary's continues to meet the healthcare needs of our community for generations to come," said Jeff Methven, president and CEO of St. Mary's Healthcare. "She is respected throughout our organization for her commitment to St. Mary's and the community she has long called home." 
 In her new role, Rhodes works with the board of directors of St. Mary's Healthcare, the Foundation board and St. Mary's Auxiliary to raise funds that play a vital role in furthering St. Mary's mission of serving all with compassion and excellence. Foundation donations help fund equipment purchases, construction and renovation projects, employee continuing education, and healthcare scholarships. The Foundation also provides financial assistance to St. Mary's associates and to patients during times of financial hardship. 
 "Every gift stays right here in our community and makes a difference to our patients every day," Rhodes said. "We are extremely grateful to our donors for their enduring support. Through their generosity, the Foundation has raised over $9 million since its founding in 1984." 
 Rhodes has a Bachelor of Science degree from The Evergreen State College in Olympia, Washington. She is a longtime resident of Johnstown.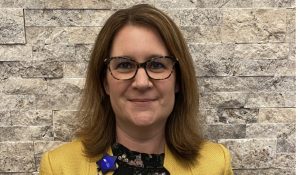 Pictured: Maureen Rhodes, executive director of the Foundation for St. Mary's Healthcare.