Maria Loux, St. Mary's RN Honored With 2021 DAISY Leader Award
Birthing Center Supervisor recognized for serving with compassion and determination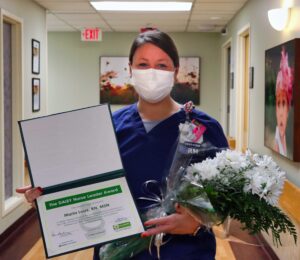 St. Mary's Healthcare is proud to announce that Maria Loux, RN, Maternity Supervisor at the Birthing Center at St. Mary's Hospital has been awarded the coveted DAISY Nurse Leader Award. Maria was presented with the award during a surprise ceremony on December 13. 
The DAISY Nurse Leader Award was established to recognize nurse leaders who engage and motivate nurses and create an environment of trust and compassion.
In Maria's nomination letter, multiple associates from the Birthing Center penned testimonials speaking to Maria's leadership skills, compassion, comradery, and her determination to keeping the birthing center running smoothly for our patients.
"I couldn't think of a better candidate for the DAISY Nurse Leader Award," said one associate. "Maria has recently stepped up to the Maternity Unit Supervisor, but her leadership skills have helped this unit long before that was official. She is so dedicated not only to this unit, but to the staff, patients, and the hospital as a whole. Maria goes all out to help with improving the unit, giving back to the community and our patients, and making our staff feel seen and appreciated."
Another colleague described how Maria served with compassion and excellence during the most difficult time in modern health care.
"In the midst of the COVID-19 Pandemic, Maria stepped into the role of Maternity Supervisor where she continued to not only work full time hours but constantly picked up extra hours as needed to help out her unit. She's compassionate, knowledgeable, and she always puts the needs of our patients and our staff above all else."
It was also noted on the nomination letter that Maria regularly checks on her staff during times of high volume and how she is always the first one to acknowledge the good work the maternity unit does.  
St. Mary's Healthcare is proud to name Maria Loux as our latest Daisy Nurse Leader Award recipient.
About the Daisy Nurse Leader Award: 
This DAISY Nurse Leader Award is an initiative of the DAISY Foundation that honors the amazing work nurses do for patients & families every day wherever they practice, in whatever role they serve, and throughout their careers. 
The DAISY Foundation was created in 1999 by the family of J. Patrick Barnes who died at age 33 of complications of an auto-immune disease (hence the name, an acronym for Diseases Attacking the Immune System.) Patrick received extraordinary care from his nurses, and his family felt compelled to express their profound gratitude for the compassion and skill nurses bring to patients and families every day. The DAISY Award celebrates nurses in over 4,700 healthcare facilities and schools of nursing around the world.  
For more information about The DAISY Award and the Foundation's other recognition of nurses, faculty, and students, visit http://www.daisyfoundation.org/.