Local Hospitals Unite to Encourage Community Vaccination
Date: August 10, 2021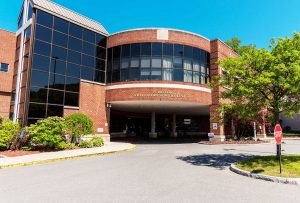 FULTON AND MONTGOMERY COUNTIES, NY – The two healthcare entities; Nathan Littauer Hospital & Nursing Home and St. Mary's Healthcare are joining forces asking community members to get vaccinated. For the health and safety of the region the two healthcare organizations serve, Nathan Littauer and St. Mary's Healthcare are working closely to educate people in the Fulton and Montgomery County areas. "The Delta variant is here," says Nathan Littauer Hospital President and CEO Sean Fadale. "Locally, we are urging those to take advantage of the protection offered by the vaccines. The vaccines are safe and effective." "It is important we educate our communities that these vaccines are incredibly good at what they do," agreed St. Mary's Healthcare President and CEO Scott Bruce. "They are a vital component in making COVID a distant memory."
Positive cases and hospitalizations continue to increase nationwide from the "super-transmissible" Delta variant. The Centers for Disease Control and Prevention report that the Delta variant is "accounting for as much as 93 percent of all infections," and "spreads easily like chickenpox."
"The past 18 months have been a remarkable time," says William Mayer, MD, Chief Medical Officer of St. Mary's Healthcare. "The outpouring of support we received during the start of the pandemic was truly humbling. Today, people still ask us: 'What can we do to help hospitals as we battle COVID?' The answer is simple. Vaccination is our way out, and we can end this together if we trust in science and protect ourselves and others by getting vaccinated."
Vaccination is available to everyone in the United States ages 12 years and over. In addition to vaccines being widely available through local county Public Health Departments, New York State has many vaccination sites. Local pharmacies in New York State even offer vaccination appointments. Those who are interested in vaccination have many resources available to them and have the support of their local hospital and health care centers.
"There is no greater priority right now than to ensure the safety of each other, and for those who rely on us for safe care, often when they are most vulnerable. By getting vaccinated against Covid-19 we better protect those who are unable to get vaccinated which includes our children under 12. It's our duty to inform our community that we have the tool to defeat this virus, and it is readily available to them," adds William Mayer, MD.
Nathan Littauer and St. Mary's are working together to share facts, treatments, and trends as the two healthcare organizations battle this new foe. The Delta variant potentially serves as a severe threat to unvaccinated individuals – prompting the two to come together again to ensure as many of their organization's patients and employees are vaccinated.
Addressing the community, "We have busy days in our future," Fadale adds. "We know you are relying on us to guide the community through the potential surge ahead. We are up to the task. We have the equipment, the sheer determination, and the talented staff to make it through whatever this pandemic throws at us. But now, we are asking you to help us, and to do your part – please get vaccinated."
Nathan Littauer and St. Mary's Healthcare are both committed to patient and employee safety. As such, both organizations believe that all healthcare workers (employees, students, credentialed staff and volunteers), should be required to receive the COVID-19 vaccine. Therefore, both agree to implement required vaccination policies effective October 1, 2021, and are taking steps to achieve that goal in their respective institutions.
The two healthcare organizations will continue to promote vaccine information, educational materials, and resources on their website and social media. For those looking to obtain more information about making an informed decision to be vaccinated, community members are encouraged to utilize resources found on Nathan Littauer Hospital and Saint Mary's websites and social media:
Website: https://www.smha.org
Facebook Page: https://www.facebook.com/smha.org
About St. Mary's Healthcare:
St. Mary's Healthcare features an award-winning acute care hospital, primary and specialty care centers throughout Fulton, Montgomery, and Saratoga counties, more than 30 behavioral health services for persons in Fulton, Montgomery and Hamilton counties, a full continuum of physical rehabilitation services and a 160-bed nursing home. The organization has earned exceptional national rankings for excellence in medicine and has a continuing commitment to provide an exceptional patient experience. For more information about St. Mary's Healthcare, call (518) 842-1900 or visit us online at www.smha.org.
Contacts:
Richard Hyde
Marketing Director
richard.hyde@nysmha.org
(518) 770-7505