Kristin Mosher Named Director of Marketing and Communications at St. Mary's Healthcare
AMSTERDAM, N.Y., June 12, 2023—Kristin Mosher has been named director of marketing and communications at St. Mary's Healthcare, responsible for internal and external communications.
A Johnstown native currently residing in Ballston Spa, Mosher has more than a decade of integrated marketing experience with healthcare organizations. Most recently, she was director of marketing and communications at Saratoga Hospital, where she oversaw a significant expansion of digital marketing efforts. Mosher also was instrumental in increasing community awareness of hospital programs and services.
"Kristin brings an invaluable combination of strengths to St. Mary's—exceptional marketing and communications skills, a track record of success, and an appreciation of the vital role of a community hospital," said Jeff Methven, president and CEO of St. Mary's Healthcare. "We look forward to making the most of her talents and experience as St. Mary's continues to grow and serve our community."
Mosher also has strong ties to the community. She and her husband grew up in the Fulton-Montgomery region and still have family here.
Before joining Saratoga Hospital, Mosher held positions of increasing responsibility at WEGO Health, now part of the social health company Health Union. She has a bachelor's degree from Bryant University in Rhode Island and certifications in digital, mobile, online, content and inbound marketing.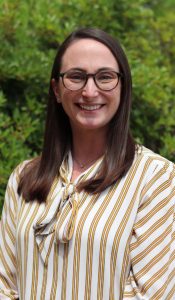 Pictured: Kristin Mosher, Director of Marketing and Communications at St. Mary's Healthcare