Amsterdam Family Practice Joins St. Mary's Healthcare
AMSTERDAM, N.Y., April 3, 2023—Amsterdam Family Practice has joined St. Mary's Healthcare effective April 1 in a partnership that strengthens the two organizations' connection and enhances their ability to meet the healthcare needs of Fulton and Montgomery counties. 
Both organizations have deep roots in the community. Both share a commitment to making sure the region's residents can receive high-quality healthcare close to home. 
"This partnership is a natural next step for Amsterdam Family Practice, St. Mary's and the community we both serve," said Jeffrey Methven, president and CEO of St. Mary's Healthcare. "As members of the same healthcare organization, we can build on and expand the exceptional, essential primary care services that Amsterdam Family Practice already provides. When primary care patients need additional services, we also can better coordinate their care through the St. Mary's healthcare network." 
Amsterdam Family Practice has served Fulton and Montgomery counties for more than 35 years, providing excellent primary care to individuals of all ages. Patients of the practice will continue to receive the same compassionate care, from providers they already know and trust, at the existing location at 119 Holland Circle Drive in Amsterdam. The practice will continue to provide the same services you are accustomed to receiving, but will now be through Carondelet Regional Medical, P.C., a professional services corporation of St. Mary's Healthcare. 
"Our partners and providers at Amsterdam Family Practice view this as an exciting opportunity for Amsterdam Family Practice and St. Mary's to provide the comprehensive care that can have a powerful, positive impact on long-term health and quality of life," said Melissa Helm, practice manager at Amsterdam Family Practice.  
"We look forward to growing and thriving with St. Mary's and serving our patients and our community together." Providers in Amsterdam Family Practice are Dr. William Forlano, Dr. Robert Droege, Dr. Walter Cummings, Dr. George Weis and Family Nurse Practitioners Chelsea Sohns and Nichole Santiago. 
With Amsterdam Family Practice, St. Mary's Healthcare includes more than 200 active providers in 20 primary and specialty care practices.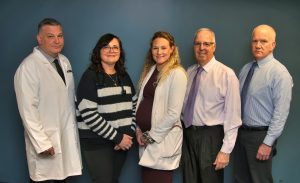 Pictured left to right: Dr. William Forlano, Family Nurse Practitioner Nichole Santiago, Family Nurse Practitioner Chelsea Sohns, Dr. George Weis, Dr. Walter Cummings (not pictured Dr. Robert Droege).